Vietnam has been opening since 1991 and joined the World Trade Organization (WTO) in 2007. Since then, there has been a constant increase in the flow of foreign investment as well as foreign employees setting in the country. The legal system adapted gradually and showed moving rules relating to foreign employees and work permit. The new Labor Code 2012, effective since 1st May 2013, and the recent Decree 102/2013/ND-CP dated 5th September 2013, effective from 1st November 2013 ("Decree 102") will change the rules again and we felt the need to provide you with the updated information on this matter.
Today, according to Article 172 of the new Labor Code 2012, only in the following cases are foreign citizens working in Vietnam exempt from work permit.
1.     Owners of a company or head of a representative office.
"Contributing member, or owners of a limited liability company, or Member of the Board of Directors of a Joint Stock Company"  are exempt from work permit according to Clause 1, 2 Article 172 of new Labor Code. We can understand that the General director/Director of a company is NOT exempt from work permit (as they used to be) unless they are both director and member/owner of the company. Whereas, "Head of Representative Office, project of international organization, non-governmental organizations in Vietnam" are  exempt from work permit, even they can be hired or internally transferred from the mother company. This matter leads to the question why the Director of a company is not a case of exemption from work permit while the Head of Representative Office is. It might be sure that the exemption for "Head of Representative Office" is still in question, because this provision has been changed four times since the Labor Code 1994.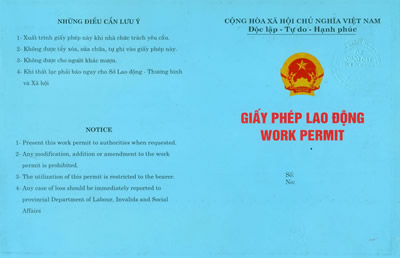 2.     Short term stay in Vietnam.
Foreign employee can be exempt from work permit if they work in Vietnam less than 03 (three) months, in order to "offer services" or to "handle the problem, technical situation and complex technology arising that affect or threaten to affect the production and business that the Vietnamese and foreign experts currently in Vietnam cannot be handled". The matter here is that such people come to Vietnam to help handle the problem that Vietnamese experts cannot solve. It is seldom that one can know how long the problem lasts or how much time they need to handle it. Therefore, it may seem rather unreasonable to limit the time for such missions. Besides, the criterion for tax residence is 06 months, it would be logical if the two periods match.
3.     Specific activities
–       A foreign lawyer is not subject to common work permit. However, in order to practice law in Vietnam, a foreign lawyer has to obtain an individual license from the competent Authority (Ministry of Justice), which is considered as a specific work permit (regulations stipulated in the Law of Lawyer also).
–       Journalists are issued with an operational license in the information and press sector in Vietnam from the Ministry of Foreign Affairs.
4.     International treaties and education sector
The Labor Code 2012 has some new provisions that are suitable with the current situation of Vietnam. The exemption from work permit "under the provisions of international agreement of Vietnam" totally adapts to the fact that Vietnam has joined the WTO and become the member of more and more international agreements, treaties or conventions. Besides, the provision on exemption from work permit for "students studying and working in Vietnam" (trainees) indicates that education is one of the fields which government focuses on the most and the exchange of foreign students are expected to facilitate the development of education.
Besides the above-mentioned cases, the new Decree 102 provides us with seven other cases in which a work permit is not required. Some cases were once mentioned in Decree No. 46/2011 (on amending and supplementing some articles of Decree 34/2008/ND-CP), especially, the exemption from work permit for "internal transfer within an enterprise and within the scope of the List of Commitments on Services of Vietnam with WTO comprising 11services" has been stipulated in 2011 but seems absolutely impractical. As prescribed to give the guidelines on this matter, the Ministry of Industry and Trade has not yet provided specific guidelines on the procedures for confirming that a foreign internally transferring within an enterprise belongs to one of the 11 above services sector. Is there any hope that such Ministry will issue the required Circular to regulate this matter in future?
Other cases detail the regulations in The Labor Code on international treaties and education sector, such as, exemption for a teacher in a foreign agency or organization appointed to come to Vietnam to teach in an international school; people with a master's degree or higher in a university or college; or a foreigner coming to Vietnam to implement an international agreement…These subjects have to obtain the confirmation or certificate from the competent authority to prove the purpose they come to Vietnam. Moreover, all cases exempted from work permit must get the confirmation of the Department of Labor, Invalids and Social Affairs that they are not required to have work permit before they commence to work. This is the new regulation of Decree 102. However, is it business efficient when they are exempted from work permit but they must still satisfy an application file to certify it? It might be one of the ways for Government to strictly manage the foreigners working in Vietnam, but it seems to make the administrative steps more burdensome, and deny the meaning of exemption from work permit.
Besides, Decree 102 imposes the employer to get a letter of consent to employ the foreigner for which the work permit is applied, or issued by the Chairman of the provincial People's Committee.
In conclusion, we can say that the latest provisions on work permit in the Labor Code 2012 and Decree 102 are more practical and detailed than previously, but their real efficiency needs proving through the implementation. These regulations are expected to contribute to the development of the labor market in particular and to our economy in general.
We hope this article has given you an overview of foreign employees and work permit. Details relating to particular legal matters shall be consulted directly case by case upon your request.
Nguyen Minh Tuyen